The '80s were radical. They were also a long time ago.
A lot's changed around here since then. After four decades, it's time to update how we protect the mountains, rivers, wildlife, and trails we love.
Now is our chance to keep our wild backyard the way it is for the next four decades, and we need to work together to make that future a reality. To help us on that journey, we've launched a series of print, digital, and social media ads highlighting just how long it's been – almost four full decades – since we comprehensively updated how we take care of the rivers, mountains, wildlife, and trails that set the Madison and Gallatin ranges apart.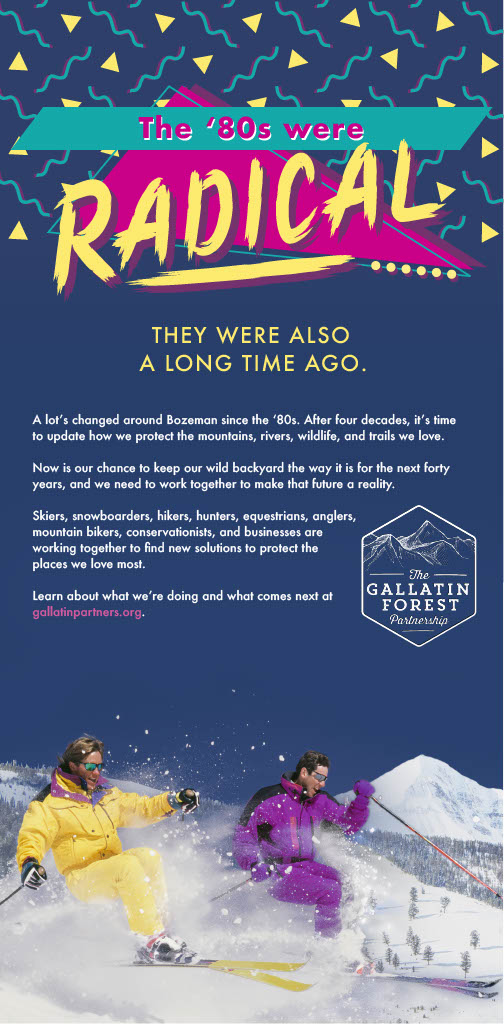 Protecting these things for the long haul, and building the foundation for a thriving future for our wild backyard, has been the Gallatin Forest Partnership's goal since day one. We hope these ads catch
Skiers, snowboarders, hunters, hikers, equestrians, mountain bikers, anglers, conservationists, and businesses are working together to protect the places we love most. With the new Custer Gallatin National Forest Plan on the horizon, we're committed to using the plan as a springboard to launch into a new era of protecting everything we love about our beloved wild backyard.
What's Next?
There will be plenty to do once the forest plan is released. There are some things the plan can't do, like designate new wilderness to protect the wildest parts of the Madison and Gallatin ranges and permanently protect the rest of the Gallatin Range through other conservation designations. These are key aspects of the Gallatin Forest Partnership agreement, and we need to work together – each and every one of us – to make our full vision a reality.

Over the coming months, it's going to be more important than ever that we stay committed to the goal that's united us since day one: working toward protecting the mountains, rivers, wildlife, and trails we love. Your support will be crucial in building the future we all want to see.
Thanks for all you've done to get us to this point. The future is bright, and there's much still to be done. If you haven't already, please endorse the Gallatin Forest Partnership Agreement. If you've already endorsed, share the agreement with three friends and ask them to endorse, too!
Stay tuned for more news in the next few weeks.